Tropicana Las Vegas Rooms, Suites and Villas
To get the best hotel rate, buy your ticket for Las Vegas 2014 first. You will then have access to the best hotel rate for the Tropicana.
IVRPA has selected one of the Top Hotels on the Las Vegas Strip for our 2014 conference.
When searching for a Las Vegas resort, there are many things to take into consideration – the comfort of the guestrooms, amenities, location, quality and, of course, customer service, to name a few. While some hotels on the Las Vegas Strip may meet one or even a few of these criteria, only the best hotel can meet all of them. And Tropicana Las Vegas hotel does exactly that.
All of their luxury rooms offer comfort, style and sophistication with open floor plans, premium amenities, plush new mattresses wrapped in 300-thread-count sheets, and modern technology such as 42" LCD TVs and an iHome with a universal docking station. These Las Vegas rooms allow guests to benefit from natural light and warm textures and tones that create the perfect balance between casual and modern elegance.
The organization of Las Vegas 2014 reserved a group of 80 rooms at the very special rate of $65 US for the whole conference dates, from Sunday May the 25th to Saturday May the 30th. Arrive on the 25th, have a ride on the strip or get out of there and have a ride somewhere in a fabulous site around Las Vegas.
We encourage you to book your room as early as possible for these dates (25-30). When this group of 80 rooms will be booked, we cannot guarantee such low price. Be aware of the higher prices on the weekend before and after the event.
If you want to book for additional days, before or after the event, please CONTACT US.
IMPORTANT INFORMATION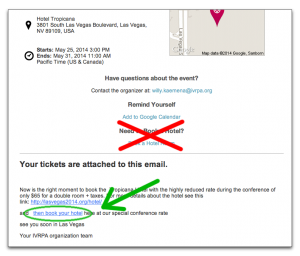 After completing your registration for 2014 Las Vegas, you'll receive an email from TicketBud. Be sure to click on the link " then book your hotel" at the bottom. You will get a much better deal then the link under the big X.
Photo courtesy of Joergen Geerds, Freedom360